$2 Million Dollar 1894 Barber S Dime Sold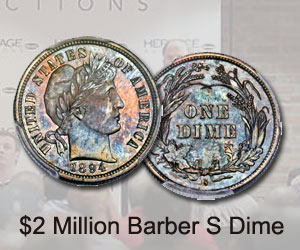 A rare 1894 S Barber Dime sold at a Tampa Auction hosted by HA.com recently for a massive $2 Million (well 1.99). This further cements Heritage Auctions (HA.com) status as the premier place to list and sell coins.
Only 25 of the 1894 Barber / Liberty Head dimes are recorded as minted at the San Fran mint. Much less than this number actually exist. The coin is so rare in fact we haven''t even bothered to list it in our database.
To put this further into perspective in 1893 the San Francisco mint (S) issued 2.4 million Barber Dimes, while in 1895 it issued 1.12 million. That makes this coin even more peculiar.
A Mitchell Spivack of Wonder Coins (WonderCoins.com) made the purchase for an unknown buyer. This is surely a great investment and wonderful piece of American history.
To learn more about selling your coins read our article Sell Your Coins.
Other Articles Worth Reading
All US Dimes