Peace Dollar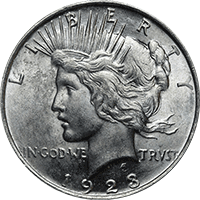 The Peace Dollar was minted from 1921-1928 and then again from 1934-1935. With .77 ounces of pure silver it's current melt value* is $17.43 This coin is not to be used at face value :)
Bookmark this page (Ctrl+D) and come back later. The price updates every 15 minutes.
The front of this coin is graced with the head of Lady Liberty, and the reverse contains and image of a majestic bald eagle. The artwork / design was that of Antonio de Francisci an Italian immigrant born back in 1887.
Spelling errors? These coins all have the words "in god we trvst", but it's not a spelling error it's actually the Latin spelling for the word. So it means "In God We Trust".
This coin was minted in Philadelphia (no mint mark), Denver (D), and San Francisco (S).
If you are a fan of batman and have read the comics or seen the movie this is the coin flipped by the villain Two-Face.
* Notice as of December 2006 it is illegal to melt down US Minted Pennies and Nickels, and there is a $10,000 fine to help enforce the law. It is legal however to melt down silver dollars, half dollars, dimes, quarters for their content.
Silver Spot Price Chart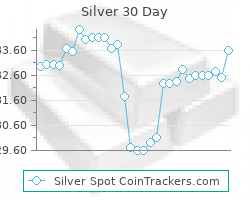 Display on your website!
Copy the html above to display the graph on your website!
Peace Dollar Values
All US Dollar Coins
*list does not count the newer Presidential Dollars