Barber/Liberty Head Half Dollar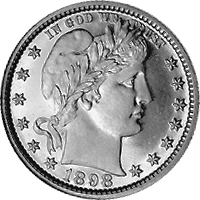 The front of this coin has the head of liberty crowned by a wreath. This coin looks very much like a Julius Caesar coin with the wreath in my opinion. The back side or reverse side was engraved with the bald eagle grasping 13 arrows (representing the 13 original colonies) and an olive branch (representing peace).
The Liberty Head Half Dollars were minted between 1892 and 1916 by Charles Barber. These are more commonly called "Barber Half Dollars" because of this. The coins were originally meant to be designed by the public but later taken over by Charles Barber the current Chief Engraver for the United States Mint due to financial issues.
Current silver melt value* for a Barber Half is $8.15 and this price is based off the current silver spot price of $22.54 This value is dynamic so bookmark it and comeback for an up to the minute silver melt value. As a side note most of the Liberty Head or Barber Half Dollars we've come across are worn down and will weigh a bit less.
* Notice as of December 2006 it is illegal to melt down US Minted Pennies and Nickels, and there is a $10,000 fine to help enforce the law. It is legal however to melt down silver dollars, half dollars, dimes, quarters for their content.
Silver Spot Price Chart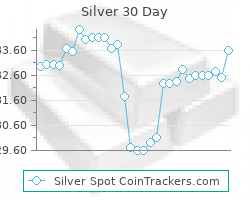 Display on your website!
Copy the html above to display the graph on your website!
Barber/Liberty Head Half Dollar Values
All US Halves