50 US State Quarters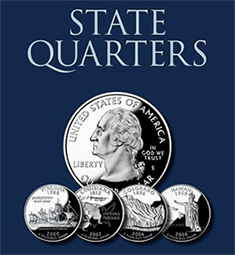 The 50 US State Quarters of the United States has been called the "most successful coin program in the Nation's history". due to it's immense popularity with the people. In 2009 it was extended to the unincorporated territories of the United States like Puerto Rico, Guam,American Samoa, U.S. Virgin Islands, District of Columbia, and the Northern Mariana Islands. All together 56 different coins were minted, and issued from different mints.
The front of this coin was a redesign of the original Washington Quarter and incorporated thinner / sharper lines. On the reverse top is the States name and the date in Which the country joined the Union. The reverse bottom contains the year the coin was minted. The middle reverse coin is set aside for an image "collage" that helps properly represent the state with pictures of monuments, plants, animals, landmarks, and other such distinguishable images.
50 State Quarters Values
Scroll for More State Quarters
Scroll for More State Quarters
All US Quarters