Shield Nickel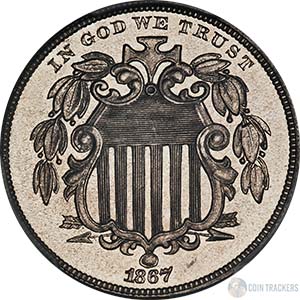 The Shield Nickel was Americas first modern day 5 cent peice made from Nickel Alloy, or coppernickel as some people call it. The actualy content is 75% copper, and 25% nickel.
Shield Nickels were minted from 1866 untill 1883 with the largest quantities of these coins being minted in 1867 and 1867.
The front of this coin has a shield and the words in god we trust, as well as the date. The reverse has the number 5 in the center encircled with stars, and has the words "United States of America" as well as the word cents. Some versions have rays (1866, 1867) between the stars on the reverse.
The shield nickel was designed by James B. Longacre
This coin was replaced by the Liberty Head/V-Nickel
Shield Nickel Values
Scroll for More Shield Nickels
Scroll for More Shield Nickels
All US Nickels