Franklin D. Roosevelt Dime Values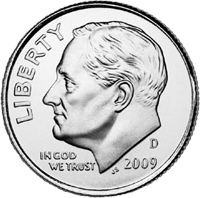 The front of this coin contains Franklin D. Roosevelt's head, and the rear or reverse contains an olive branch, torch, and an oak branch. John R. Sinnock was the designer and his initials js can be seen underneath Roosevelt's head if you look closely.
Coin was minted in the United States between 1946 and 2023,with coins from 1946 to 1964 being 90% silver. Melt value* for a 90% silver Roosevelt Dime is currently $1.66
These coins were commissioned when Roosevelt died in 1946 and replaced the mercury dime.
This dime is still being minted and has become a mainstay of the US coin supply. It's lifespan makes it one of the most mass produced coins in the history of he world.
The March of Dimes
The March of Dimes was started by President Roosevelt, a victim of polio.
Related Article
Roosevelt Dimes
Scroll for More Roosevelt Dimes
Scroll for More Roosevelt Dimes
All US Dimes