Liberty Seated Half Dollars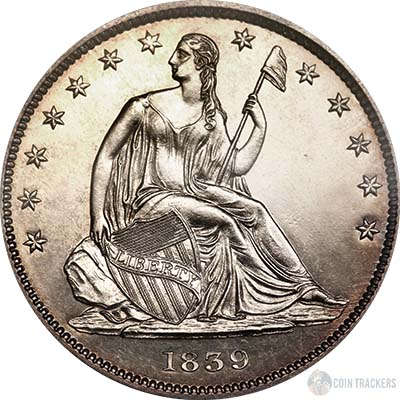 [Jump to Liberty Seated Half List]
The Liberty Seated Half Dollars were issued from 1839-1886 The front of these coins (also called the Obverse) has the Goddess or Lady Liberty seated. She holds what looks like a small flag in her left hand. This is actually a liberty pole. Her right hand is holding the top left corner of a shield containing the word Liberty.
If you are looking for the date on this coin it's just under her dress on the front bottom center. The mint mark can be found on the reverse above or below the bottom center of the wreath.
Pick a Liberty Seated Half Dollar from the list below to get full details, stats, values, and insight on that quarter. Be sure too bookmark us hit Ctrl+D now!
Current silver melt value* for a Liberty Seated Half Dollar is $8.28 and this price is based off the current silver spot price of $22.90 This value is dynamic so bookmark it and comeback for an up to the minute silver melt value.
Liberty Seated Half Dollar Stats
Scroll for More Liberty Seated Half Dollars
Scroll for More Liberty Seated Half Dollars
All US Half Dollars