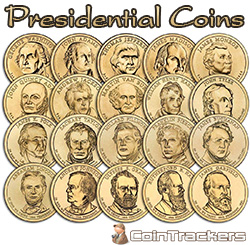 Do you have a few presidential coins in your collection? Looking to pickup a few from the bank, a dealer, or just hunting them from circulation? The Presidential $1 Coin Act of 2005 was passed to honor former U.S. presidents with their own coin. The program only allowed presidents who had been deceased for at least two years to be honored with their own coin, making every president up to Ronald Reagan, (but excluding Jimmy Carter) eligible to receive their own coin. The program is similar to the 50 State Quarters program, officially began on January 1, 2007, and officially ended in 2016.
Why Are Presidential Coins Valuable?
Not all presidential coins are valuable. However, as with many newly-minted coin programs, there were some mint errors early only. In this case, errors occurred fairly early after minting began and within the first few months, which included missing edge inscriptions for both "In God We Trust" and "E Pluribus Unum," as well as missing mint marks and issuance year. Additionally, some individuals found the words on the rim struck upside down, while others have found coins that were missing entire portraits on one or both sides.
While the Presidential Coin Program was intended to have a much longer run, it was initially suspended in 2011. However, the program did not actually end until the last eligible president, Ronald Reagan, was honored. The program officially ended in 2016 with the Reagan mint.
Finally, First Spouses were also honored under this program with uncirculated mints.
Coins may be valuable due to minting errors or rarity. The number of circulated coins decreased as the program neared its end, although the Woodrow Wilson coin, not the Ronald Reagan coin, has the fewest number in circulation, at just 7,980,000 coins.
Which Presidential Coins are the Most Valuable?
As printing errors primarily existed during the early mint phase in the 2007 series of coins, George Washington and John Adams coins maintain the highest possible values for Presidential $1 Coins. Specifically, the following coins hold the most value:
2007 Washington (missing edge lettering) - currently selling for around $150 for MS-65
2007 J Adams (missing edge lettering - also currently selling for around $150 for MS-65
2007-P J Adams (double edge lettering) - currently selling for around $250 to $300 for MS-65
Most other presidential coins maintain only their face value, although most Presidential $1 Coins that were uncirculated may be worth more than their face value.
We are working on updating our database to contain all presidential coins. This is a much easier task now that the mint has finished with this series of coins.
Presidential Gold Dollars
Scroll for More Presidential Dollars
Scroll for More Presidential Dollars