Seated Liberty Dollar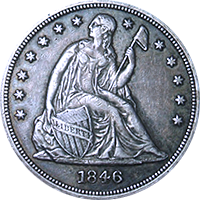 The Seated Liberty Dollar was minted from 1840 to 1873. This coins was designed by the chief engraver Christian Gobrecht. Previous versions of this dollar with Christian Gobrecht's name on them were called Gobrecht dollars. With .7735 ounces of pure silver it's current melt value* is $17.43
Bookmark this page (Ctrl+D) and come back later. The price updates every 15 minutes.
The front of this coin is graced with the head of Lady Liberty in a seated position, and the reverse contains a left-facing bald eagle.
In 1866 the words "In God We Trust" were added to the dollar.
These coins were originally minted at the Philadelphia mint (these contain no mint mark), and were also later minted in New Orleans (O), San Francisco (S), and Carson City (CC).
All in all an amazing coin that saw the United States through such perilous times as the Civil War (1861–1865). This coin can be a bit more expensive that it's cousins the Morgan and Piece Dollars, but for the serious investor it may be worth it.
* Notice as of December 2006 it is illegal to melt down US Minted Pennies and Nickels, and there is a $10,000 fine to help enforce the law. It is legal however to melt down silver dollars, half dollars, dimes, quarters for their content.
Silver Spot Price Chart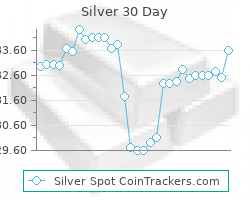 Display on your website!
Copy the html above to display the graph on your website!
Seated Liberty Dollar Values
All US Dollar Coins
*list does not count the newer Presidential Dollars