Walking Liberty Half Dollars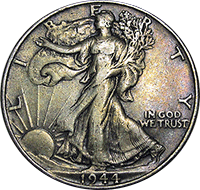 The Walking Liberty Half Dollars are among our favorite coins. They were minted between 1916 and 1947 and are 90% Silver.
The front of the coin is graced by Lady Liberty herself as you can see from the image. She is walking or standing and holding an olive branch. A sun is rising on her left side. (or setting not sure really but I would imagine it was rising). This same design was later used on the 1oz American Silver Eagles.
The coins was designed by Adolph A. Weinman a member of the National Sculpture Society.
Current silver melt value* for this coin is $8.28 and this price is based off the current silver spot price of $22.90 This value is dynamic so bookmark it and comeback for an up to the minute silver melt value.
Walking Liberty Half Dollar (1916-1947)
Scroll for More Walking Liberty Half Dollar
Scroll for More Walking Liberty Half Dollar
All US Half Dollars