<!- social start --> <!- social end -->
Washington Quarter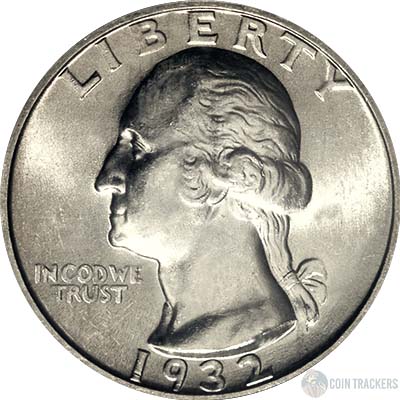 [Jump to Washington Quarter List]
The most recent of the United States Quarter has been the George Washington. This coin was first minted in 1932, and has enjoyed a uninterrupted run from then until today. There have been small variations up unto 1999, and just one year of non-minatage in 1975. These coins were 90% silver up until 1964, at which time the US Mint switched to a copper and nickel mixture.
Our coin system is based of the Spanish milled dollars. One dollar could be broken in half making .50 and then broken down again to make a quarter dollar.
The Quarter was designed by John Flanagan and was based on a 1786 bust made by sculptor Jean-Antoine Houdon. the reverse side has a Bald Eagle.
State Quarters
State quarters were issued between 1999 and 2008, these are very popular with collectors, but not worth much in terms of intrinsic value.
Current silver melt value* for a pre 1965 coin (90% Silver) is $3.98 and this price is based off the current silver spot price of $22.00 This value is dynamic so bookmark it and comeback for an up to the minute silver melt value.
Washington Quarter Values
Scroll for More Washington Quarters
Scroll for More Washington Quarters
All US Quarters