Indian Head Penny / Cent (1859-1909)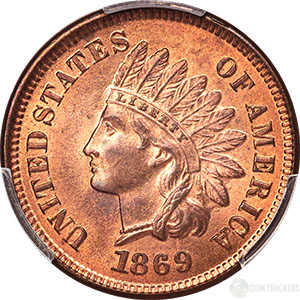 The face value of this coin is 1 cent. The chemical composition is 88% copper and 12% nickel from the years 1859-1864. The composition changes in 1965 95% copper, 5% tin (sometimes zinc was used in place of copper).
These coins are popular with persons sharing Native American heritage, and while just 2 million individuals are enrolled as members of a tribe, most people in the US today claim to be at least part Native American.
I remember fondly collecting the Indian Head Pennies and the Buffalo Nickels with my Grandmother who was Cherokee. So on a personal note I love these coins, if for nothing else than their sentimental value.
As with most coins of this age the Indian Head Cent is worth many times more than it's face value indicates. Prices are well above the $10 mark for all of these coins (even in less than mint state) up until about 1879 at which time the minimum is still $1 to $3 on average. Point being..if you find one don't spend it at face value.
Indian Head Penny Values
Scroll for More Indian Head Pennies
Scroll for More Indian Head Pennies
All US Pennies