Flying Eagle Cent / Penny (1856-1858)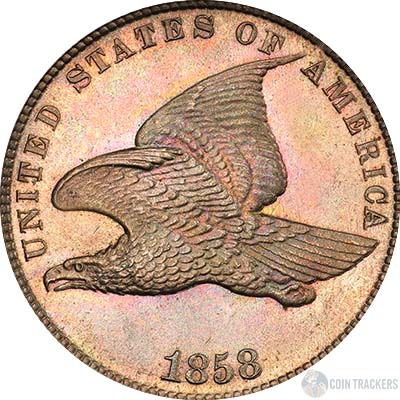 The Flying Eagle Cent / Penny was issued between 1856 and 1858. These coins have no mint marks but were created at the Philadelphia mint. The Flying Eagles Cents are pre-civil war coinage as the civil war started in 1961.
In terms of errors there are many to look for. The more common errors are; 10% to 25% off center strikes, restrikes (double strikes), and lamination issues. There are also broken die errors, and defective planchets. An 8 or 7 restrike is also another error. In 1858 they changed the die and restruck some 1857 coins in place of blank planchets.
If you are into pennies the Flying Eagle Cent may be worth collecting. It had a limited run with just 2 years, and is affordable enough for the average person to enjoy.
The face value of this coin is 1 cent. The chemical composition is 88% copper and 12% nickel.
As with most coins of this age the Flying Eagle Cent is worth many times more than its face value indicates. Prices are well above the $25 mark for all of these coins (even in less than mint state). Point being..if you find one don't spend it at face value.
This coin would be replaced by the Indian Head Cent.
Flying Eagle Cent Values
All US Pennies