How Much Does A Dime Weigh?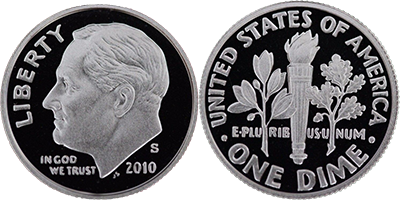 Modern Dime Weight 2.268 grams / 0.080 ounces
All U.S. dimes (10-cent pieces) minted since 1965 weigh 2.268 grams (0.080 ounces). US dimes have a diameter of 17.91 mm, a thickness of 1.35 mm, and are composed of in a metallic "clad sandwich" of copper (91.67%) and nickel (8.33%).
The U.S. first began minting dimes in 1796 following the Coinage Act of 1972. In the original piece of legislation, the dime was called a "disme". The first dime, or "disme", was issued at a weight of 2.70 grams (0.095 ounces) and was composed of 89.25% silver and 10.75% copper. These Draped Bust dimes kept this weight and metallic content until 1809. From 1809 to 1837, the US minted the Capped Bust dime, which weighed 2.41 grams (0.085 ounces). From 1837-1891, the Seated Liberty dime was minted, although the weight changed twice during that time. The metallic composition was changed to 90% silver, 10% copper, and the weight changed to 2.67 grams (0.094 ounces). Between 1853 to 1855, the weight was reduced to 2.49 grams (0.087 ounces) due to rising silver prices. The Coinage Act of 1873 changed the weight to 2.50 grams (0.088 grams), where it stayed until the Coinage Act of 1965.
Common Coin Weights
Most Valuable Coins by Type...