Year: 1969
Mint Mark: D
Type: Quarter Dollar
Price: 25 cents-$18.00+
Face Value: 0.25 USD
Produced: 114,372,000
Edge: Reeded

Notes: The mint mark on this coin (D or Denver) is located on the front bottom right.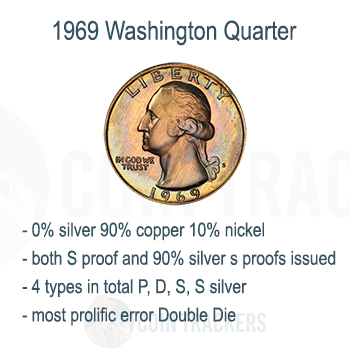 (Click to Enlarge Image)
This coin contains 0% Silver, 10% Nickel, and 90% Copper. Melt value for metal is currently around .06. (this value is static and does not update) Price may seem high but we are referencing online sales.
1969 Quarter Error Guide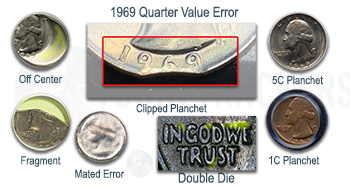 OffCenter
Off center strikes occur when the Type II planchet (rimmed) is struck by the washington quarter die off center. This is visible in the image. Off center doesn't only refer to left and right, but also up and down.
Clipped Planchet
When a planchet is punched from its original sheet of metal either on the edge of the sheet, or a punched planchet is repunched a clipped planchet error occurs.
Fragment
Just a fragment of the correct planchet is present, it has been struck by the die. The missing edge may appear smooth or tapered out.
Penny 1C Planchet
There are many instances of 1969 Washington Quarters being struck on 1 C copper penny planchets. The resulting coin is smaller than a quarter and copper in color.
Nickel 5C Planchet
Struck on a nickel planchet error looks very similar to a standard quarter making this error a little harder to spot than the struck on copper penny error.
Double Die
When a type ii planchet is struck by a die more than once its considered a double die error. To spot the double strikes look closely with a magnifying glass or phone zoom at the lettering and numbers. In the image attached the double die can be seen clearly on the words "IN GOD WE TRUST"
Matted Pair
When two coins are struck together they are essentially fused together into one and called a matted pair error.
How much is a 1969 D Washington Quarter worth?
This section is more of a layman's guide, for those new to collecting.
In Average Circulated (AC) condition it's worth around 25 cents, one in certified mint state (MS+) condition could bring as much as $18 at auction. This price does not reference any standard coin grading scale. So when we say Average Circulated, we mean in a similar condition to other coins circulated in 1969, and mint state meaning it is certified MS+ by one of the top coin grading companies. *** [?].
If you are a fan of coin roll hunting or just want to learn more about washington quarters then search or scroll below to find the most valuable and rarest in this series.
Similar Coins
Most Valuable
The most valuable Washington Quarter's. Prices listed are for MS-65 certified. Visit the link to learn more about each coin.
Want more? Click here to see the most valuable coins ever minted.
Hardest to Find
The rarest and hardest to find Washington Quarter's Check out each link to learn more about each coin.
What is the rarest Washington Quarter?
| Name | Produced |
| --- | --- |
| 1932 S | 408,000 |
| 1932 D | 436,000 |
| 1995 S | 679,000 |
| 1997 S | 741,000 |
| 1993 S | 761,000 |
| 1996 S | 775,000 |
| 1994 S | 785,000 |
| 1998 S | 878,000 |
| 1992 S | 1,317,000 |
| 1937 S | 1,652,000 |
| 1996 S | 1,750,000 |
| 1997 S | 2,055,000 |
| 1998 S | 2,086,000 |
| 1995 S | 2,117,000 |
| 1994 S | 2,484,000 |
| 1974 S | 2,612,000 |
| 1939 S | 2,628,000 |
| 1970 S | 2,632,000 |
| 1993 S | 2,633,000 |
| 1973 S | 2,760,000 |
| Name | Produced |