Year: 2005
Mint Mark: S
Coin: Kansas
Type: Quarter Dollar
Price: 25 cents-$7.00+
Face Value: 0.25 USD
Produced: 3,262,000
Edge: Reeded

Notes: The stats listed in the details above are for the non silver proof version of this coin. This quarter was released to the public in August 2005 and was designed by Norman Nemeth. It also has a Buffalo or American Bison on the front, along with the State Flower the Sunflower. All the state quarters have the words E pluribus Unum on the reverse bottom middle.
2005 Kansas Quarter Error Guide
The United States Mint produced over half a billion (500,000,000+) Kansas State Quarters. With this many coins issued it's no surprise that there are a plethora of errors related to planchets.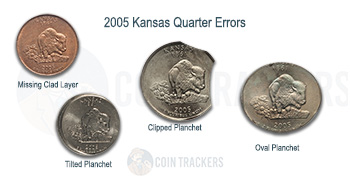 Missing Clad Layer
The top layer of this coin appears to be missing, revealing the copper core of the state quarter. This one is really easy to spot, just look for the orange. In most examples the alternate face of the coin appears to be normal.
Tilted Planchet
This is a sloped planchet that looks very similar to what an off-center strike would appear to be.
Clipped Planchet
When a planchet is punched from the planchet sheet of metal and then struck again by the punch on its edge a clipped planchet error is created. It appears as though someone took a giant hole puncher to this coins edge.
Oval Planchet
Yet another planchet error. This planchet is shaped like an oval and not completely circular.
In God We Rust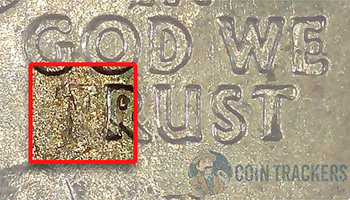 This is a grease error. The grease used to maintain the dies were filled partially with grease. To be more specific the letter T from in God We Trust was filled with grease leaving only the word RUST.
How much is a 2005 S Kansas Quarter worth?
In Average Circulated (AC) condition it's worth around 25 cents, one in certified mint state (MS+) condition could bring as much as $2 at auction. This price does not reference any standard coin grading scale. So when we say Average Circulated, we mean in a similar condition to other coins circulated in 2005, and mint state meaning it is certified MS+ by one of the top coin grading companies. *** [?].
What are your coins really worth?
Use the handy-dandy calculator below to find the real value of any kansas state quarter in your collection.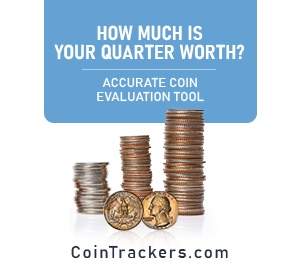 Overall Specs & Design
This coin has a total mass of 11.92 g, a diameter of 24.26 mm, and a thickness of 1.75 mm. It's edge is reeded, and the coins are composed of 91.67% Copper 8.33% Nickel.
Designer: Norman Nemeth (rev), and John Flanagan (obv)
Front (Obverse): The front or obverse of this coin contains the bust of President George Washington. If a mint mark is present it will be on the bottom right just under the words In God We Trust. The words Liberty, United States of America and Quarter Dollar are present as well.
Back (Reverse): The reverse of this coin, unlike the obverse, is specific to the Kansas State Quarter. Approval of the design was made on 12/01/1997. A Buffalo and a sunflower can be seen. The buffalo is glancing to the right. The words Kansas, and E Pluribus Unum are engraved. The numbers 2005 (date) and 1861 (date) are also engraved. Initialls NEN are hidden in the grass.
Most Valuable
The most valuable Kansas State Quarter's. Prices listed are for MS-65 certified. Visit the link to learn more about each coin.
Want more? Click here to see the most valuable coins ever minted.
***Price subject to standard supply and demand laws, dealer premiums, and other market variations. Prices represent past values fetched at online auctions, estate sales, certified coins being sold by dealers, and user submitted values. While we wholeheartedly try to give honest price estimates there are many factors besides appearance, metal content, and rarity that help make up the coins overall value. Call or visit your local coin dealer for more information.
We use user submitted pictures please read that article if you are interested in adding your own.