Year: 1975
Mint Mark: S
Type: Lincoln Penny
Price: 1 cent-$5.00+
Face Value: 0.01 USD
Produced: 2,845,000
Edge: Smooth

Notes: The coins listed above are proof Lincoln pennies.
The mint was still using copper as the primary ingredient in Lincoln Cents, and would continue to do so for another 6 years.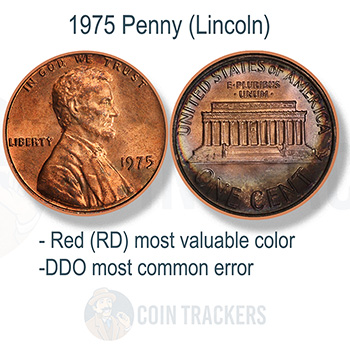 In terms of errors there are many to be aware of.
1975 Penny Error Guide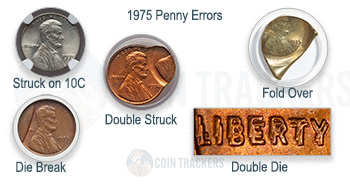 (Click to Enlarge Image)
1975 DDO / DDR
1975 D and P minted double die strikes are plentiful. You can see by the image attached that Double Die strikes are most noticeable when looking at lettering. When the die strikes the coin again it creates a second copy of the coin usually slightly off center from the original die strike. 1975 d penny double die seem to be the main specimens found, but there are some from the P mint known to exist as well.
1975 Silver Penny
Struck on 10C or Dime Blank. Somehow type II planchets (ones with rims) 10c dimes, made it into the penny pile, and were struck by a 1975 die. The result is a silver looking penny. While they appear silver in color they are in fact just aluminum, as the mint ceased issuing silver dimes in 1965. There seem to be many of these floating around, and they are selling for between $200 and $600 dollars.
Die Break Error
When the die breaks and cracks portions of it fall off, or the die crack leaves its mark on the coin. This is the case with 1C Lincoln Cents from 1975 as well. See image above for a better visual reference.
Off Center / Off Center Double Die
When a die strikes a planchet 2x, once on center and the coin is not fully ejected from the machine and then it is struck again by the automated minting process, the result is a double die off center strike.
Fold Over
These errors occur when the planchet is folded over on top of itself before being struck.
How much is a 1975 S Lincoln Penny Proof worth?
This section is more of a layman's guide, for those new to collecting.
In Average Circulated (AC) condition it's worth around 1 cent, one in certified mint state (MS+) condition could bring as much as $5 at auction. This price does not reference any standard coin grading scale. So when we say Average Circulated, we mean in a similar condition to other coins circulated in 1975, and mint state meaning it is certified MS+ by one of the top coin grading companies. *** [?].
If you are a fan of coin roll hunting or just want to learn more about lincoln pennys then search or scroll below to find the most valuable and rarest in this series.
Overall Specs & Design
This coin has a total mass of 2.5 g, a diameter of 19.05 mm, and a thickness of 1.52 mm. It's edge is Smooth, and the coins are composed of 95% copper Pre 1982, 97% copper 3% zinc after 1982.
Designer: Victor D. Brenner (obv), Lyndall Bass (rev)
Front (Obverse): The obverse or front of this coin contains the bust of President Lincoln the 16th president of the United States. The words In God We Trust are engraved in an arching manner on the top most portion of this coin. The date is present along with the mint mark. If the mark is missing the coin was issued from the Philadelphia mint. With the exception of 2017 P, the only year to contain a P mint mark to honor the 225th anniversary of the United States Mint.
Back (Reverse): The reverse of this coin has been described as Lincoln Memorial design. Nice clean lines on the steps and buildings are important for a decent grade. The Lincoln Memorial replaced the reverse after the last Wheat Cent was issued in 1958.
Similar Coins
Most Valuable
The most valuable Lincoln Penny's. Prices listed are for MS-65 certified. Visit the link to learn more about each coin.
Want more? Click here to see the most valuable coins ever minted.
Hardest to Find
The rarest and hardest to find Lincoln Penny's Check out each link to learn more about each coin.
What is the rarest Lincoln Penny?
| Name | Produced |
| --- | --- |
| 1998 S | 2,086,000 |
| 2008 S | 2,169,000 |
| 1996 S | 2,525,000 |
| 2007 S | 2,577,000 |
| 1997 S | 2,796,000 |
| 1995 S | 2,797,000 |
| 1975 S | 2,845,000 |
| 1991 S | 2,867,000 |
| 2004 S | 2,965,000 |
| 1986 S | 3,010,000 |
| 2006 S | 3,054,000 |
| 1984 S | 3,065,000 |
| 1978 S | 3,127,000 |
| 2001 S | 3,187,000 |
| 2002 S | 3,211,000 |
| 1989 S | 3,220,000 |
| 1977 S | 3,251,000 |
| 1988 S | 3,262,000 |
| 1994 S | 3,269,000 |
| 1983 S | 3,279,000 |
| Name | Produced |