Notes:
The 2012 S Non Silver Proof Acadia National Park Quarter is a tribute to Acadia NP located in Maine. This specimen is rare with just 962 thousand minted and released. Acadia National Park is a protected area of more than 47 thousand acres that is bordered by the Gulf of Maine, a portion of the North Atlantic ocean.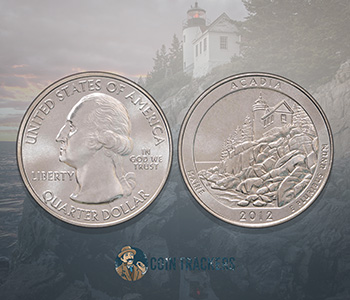 There are several specific variations to be aware of with these coins, they are...
2012 P Standard Issue
2012 P 5oz Silver Bullion 99.9% pure
2012 D Standard Issue
2012 S Standard Issue (rare)
2012 S Non-Silver Proof Issue
2012 S 90% Silver Proof Issue
All in all there are 6 known variations with some errors known to exist as well.
How much is a 2012 S Acadia Quarter (Proof) worth?
This section is more of a layman's guide, for those new to collecting.
In Average Circulated (AC) condition it's worth around $1, one in certified mint state (MS+) condition could bring as much as $4 at auction. This price does not reference any standard coin grading scale. So when we say Average Circulated, we mean in a similar condition to other coins circulated in 2012, and mint state meaning it is certified MS+ by one of the top coin grading companies. *** [?].
If you are a fan of coin roll hunting or just want to learn more about Acadia National Parks then search or scroll below to find the most valuable and rarest in this series.
Most Valuable
The most valuable Acadia National Park's. Prices listed are for MS-65 certified. Visit the link to learn more about each coin.
Want more? Click here to see the most valuable coins ever minted.