Gold Spot Price $1,827.90
The current gold spot price of $1,827.90 represents any movements in the market within the last 15 minutes. If you want a 24 hour summary that is live then try hopping over to Kitco Live, or see the 30 day chart below.
How much is an ounce of gold? $1,827.90 USD
30 Days of Gold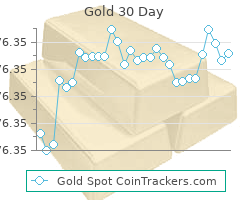 Display on your website!
Learn how to get Market Alerts
Brief History of Gold
Gold has been a common currency since the start of written history and possibly even prior to this. Gold like it's cousin silver is a staple of the money supply.
Did you know that if you took all the gold ever mined in human history and melted it into bricks, that those bricks would be roughly the same size as the base of the statue of liberty or about 5.3 billion troy ounces.