<!- social start --> <!- social end -->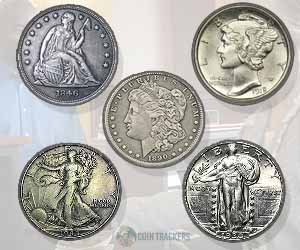 Sell Coins
How to Get the Most for your Coins
OK you've spent years possibly decades creating a collection. Or maybe you've just inherited a few coins from Grandma, Grandpa, or your Aunt Mildred.
Whatever the case may be you are interested in trading them in for for cash. Let me first tell you what not to do. Don't take them to a pawn shop, don't take them to a "Cash 4 Gold" type of store (unless they are Cull), and for heavens sake..don't spend them at face value.
First things first you need to find out how much your coins are worth. After you read this article use our site to manage your coin collection. Other options include picking up the Red Book (link fixed).
Do Not Clean Your Coins! Cleaing them automatically makes them worth less. A coin with a few small dings that has not been cleaned is worth more than a coin that has no dings, but has been cleaned.
Once you've gone through and figured out what your coins are valued at in a healthy market you will need to find a place to sell them. Rather than posting them on craigslist we suggest you sell them on a coin marketplace, or take them by your local coin dealer.
Let's look at the 3 main ways to sell your coins.
Fair Coin Markets
Great Collections
Found online at GreatCollections.com this site allows you to sell your coins with low fees. 0% for coins over $1,000 or 5% for coins under $1,000. They also offer grading, storage, and a healthy marketplace as of early 2013.
Teletrade
Found online at Teletrade.com this site also allows you to sell your coins with low fees, and offers a nice consignment option. They also offer cash advances, but we are not sure how this works, and so we suggest against it.
Heritage Auctions
Found online at Coins.Ha.com Heritage sells is the largest in terms of overall sales. They sell nearly 1 billion dollars worth of items (not just coins) each year. They are the 600lb koala in the room.
In Closing...
We hope that we have been able help point you in the right direction in terms of giving you a better ability to properly sell your coins, and hopefully get as much money as possible for them. Again be sure use our site to manage your coin collection. It's totally free, and very easy to use. It also has a nice feature that tells you how much the your total collection is valued at. Thanks for reading.
Find Coin Values
All US Dollar Coins
All US Dollar Coins
All US Half Dollars
All US Quarters
All US Dimes
All US Nickels
All US Pennies