US Silver Coin Prices & Melt Values

This app details exact silver coin prices down to the penny, these values are the result of taking the current spot price for silver and multiplying it by the silver content in the coin. US coins only sorry.
The term "melt value" does not imply the melting of the coin, it's a definition of the coins intrinsic value or worth.
Try the NEW printer friendly/ mobile version of this page
Silver Spot Price Chart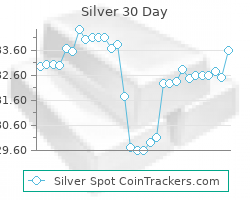 Display on your website!
Copy the html above to display the graph on your website!
* Notice as of December 2006 it is illegal to melt down US Minted Pennies and Nickels, and there is a $10,000 fine to help enforce the law. It is legal however to melt down silver dollars, half dollars, dimes, quarters for their content.