Silver Coin Calculator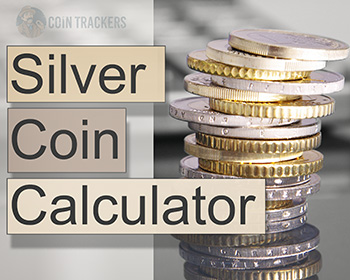 This calculator calculates the melt value of your 90% silver coins. Simply add up the face value of all your 90% silver (pre 65), enter the total and hit go. It's that easy. Be sure to share on your favorite social media platform.
Enter the face value of bag of coins, a roll of coins, or even an individual coin into the silver coin calculator to get the total melt value. It's based off of a 90% silver per coin esitmation, and the current spot price of silver $22.90 As a quick rule of thumb, if a coin was produced before 1965 it is 90% silver. (Dimes, Quarters, Half Dollars only).
If you are looking for the silver content value of us coins then use this link to get there.
Enter Face Value Below...Then Hit Go...
Face value 90% silver coins.
How Does This Work? For the sake of simplicity coin shops, pawn shops, cash for gold shops, and the like figure up total melt value based on the face value of silver coinage.
So the current value of $1 face is $16.56 <-- That is the live price.
If you happen to have 4 Ben Franklin Half Dollars and 4 Pre65 Silver quarters as an example. The total Face Value would be $3 in silver coinage, and the melt value would then be $49.68
It doesn't matter if you have 4 quarters, 10 dimes, or 2 halves. The melt value for $1 face is all the same.
Note of Importance: Morgans and Peace Dollars do not follow this rule, they are actually worth a bit more because they have slightly more silver than $1 face of dimes, quarters, or halves.