Year: 1940
Mint Mark: No mint mark
Type: Wheat Penny
Price: 35 cents-$16.00+
Face Value: 0.01 USD
Produced: 586,810,000
Edge: Smooth

Notes:
15.8 thousand proofs issued and value at somewhere around $150 each.
The standard 1940 Wheat cent issued from either the Philadelphia, Denver, or San Francisco mint is in standard condition not worth very much. In average condition the D and S mint mark versions are worth slightly more than those with no mint mark.
As with other Wheat Cent specimens the 1940 Cents color matters. The Red versions of these coins are worth more than the RB (Red Brown) and more than the BR (Brown) versions.
PR-65 Red 1940 cents sell for more than $1,000 on average, while MS-67+ Red non proofs sell for between $350 and $1,000 on average.
High end versions of this coin should only be bought and sold if first certified by NGC or PCGS.
Copper Penny Color Guide

1940 Wheat Penny Errors
If you are looking for or just enjoy collecting errors, 1940 may have what you are craving.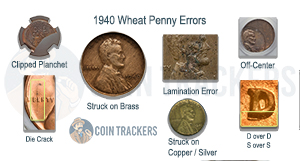 1944 Struck on Brass Planchet Error - 1940 Wheat Cents struck on brass planchets are selling for between $50 and $150 on average. This price is for those that are of average circulated or similar conditions. 1940 Clipped Planchet Cent - this is a fairly common error in the coin community. It occurs when the die clipps the edge of a cent that was not completely ejected from the stamping platform. The going rate for these seems to be between $15 and $60 but one in MS65 or higher would likely sell for much more. Die Crack - die cracks were more common back in 1940, die crack errors are as well. When the die has a failure small or large cracks can occur in the die that are then transferred over to the planchets when struck. Struck on 88% Copper 18% Silver Planchet - this is a strange error that we are currently doing a little more research on. A copper and silver planchet blend struck by a 1940 die created this error. This alloy is not normally used to create coins. They have sold for $400 in the past. D/D or S/S this mint mark error is a fairly common error. These errors are often described with a North or South or similar directional detail to tell you where to look for the error. Error in image would be considered a D / D South because the underlying mark is on the southern portion of the D. Off Center Strikes - Off-center strikes occur when the planchet is not properly seated when struck by the die. They can be off center by as much as 95%. 1940 Lamination Error - lamination errors occur when the outer coating of the coin is damaged during production.
Primary 1940 Penny Error Prices
These are the most popular errors to be found when searching through 1940 wheat cents.
1940 Double Die Obverse (DDO): A 1940 double die obverse penny can be worth several hundred dollars.
Repunched Mint Mark (RPM): The value of a 1940 penny with an RPM error can vary depending on the severity of the error, but they can generally be worth between $10 and $100 and even more.
How much is a 1940 Wheat Penny worth?
This section is more of a layman's guide, for those new to collecting.
In Average Circulated (AC) condition it's worth around 35 cents, one in certified mint state (MS+) condition could bring as much as $16 at auction. This price does not reference any standard coin grading scale. So when we say Average Circulated, we mean in a similar condition to other coins circulated in 1940, and mint state meaning it is certified MS+ by one of the top coin grading companies. *** [?].
If you are a fan of coin roll hunting or just want to learn more about wheat pennys then search or scroll below to find the most valuable and rarest in this series.
Similar Coins
Most Valuable
The most valuable Wheat Penny's. Prices listed are for MS-65 certified. Visit the link to learn more about each coin.
Want more? Click here to see the most valuable coins ever minted.
Hardest to Find
The rarest and hardest to find Wheat Penny's Check out each link to learn more about each coin.
What is the rarest Wheat Penny?
| Name | Produced |
| --- | --- |
| 1931 S | 866,000 |
| 1914 D | 1,193,000 |
| 1909 S | 1,825,000 |
| 1924 D | 2,520,000 |
| 1911 S | 4,026,000 |
| 1914 S | 4,137,000 |
| 1912 S | 4,431,000 |
| 1931 D | 4,480,000 |
| 1926 S | 4,550,000 |
| 1935 D | 4,700,000 |
| 1915 S | 4,833,000 |
| 1910 S | 6,045,000 |
| 1913 S | 6,101,000 |
| 1933 D | 6,200,000 |
| 1922 D | 7,160,000 |
| 1923 S | 8,700,000 |
| 1932 | 9,062,000 |
| 1912 D | 10,411,000 |
| 1932 D | 10,500,000 |
| 1924 S | 11,696,000 |
| Name | Produced |
***Price subject to standard supply and demand laws, dealer premiums, and other market variations. Prices represent past values fetched at online auctions, estate sales, certified coins being sold by dealers, and user submitted values. While we wholeheartedly try to give honest price estimates there are many factors besides appearance, metal content, and rarity that help make up the coins overall value. Call or visit your local coin dealer for more information.
We use user submitted pictures please read that article if you are interested in adding your own.