Notes:
The 2013 S 90% Silver Proof Mount Rushmore in South Dakota is one of the more popular of the America The Beautiful coin series creations. The America The Beautiful Quarter was enacted with Public Law 110-456 (pdf) in Dec of 2008
The Obverse or front of this coin has the standard Washing Quarter design seen in all other quarters. The Reverse of this coin displays the face of George Washington, and an artisan working on the Face of Thomas Jefferson while hanging from a rope. Scaffolding wraps around the front of their faces just under their noses. The words Mount Rushmore, South Dakota, and E Pluribus Unum are also present and instribed. The date 2013 is present bottom center along with the letters JFM the initials of Joseph Menna the Chief Engraver.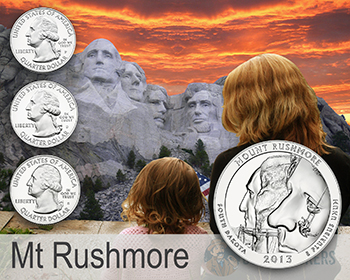 There are several specific variations to be aware of with these coins, they are.
2013 P Standard Issue
2013 P 5oz Silver Bullion 99.9% pure
2013 D Standard Issue
2013 S Standard Issue (rare)
2013 S Non-Silver Proof Issue
2013 S 90% Silver Proof Issue
All in all there are 6 known variations with some errors known to exist as well.
Image Credit:
loomingy1
How much is a 2013 S Mount Rushmore Quarter (90% Silver Proof) worth?
This section is more of a layman's guide, for those new to collecting.
In Average Circulated (AC) condition it's worth around $6.50, one in certified mint state (MS+) condition could bring as much as $14 at auction. This price does not reference any standard coin grading scale. So when we say Average Circulated, we mean in a similar condition to other coins circulated in 2013, and mint state meaning it is certified MS+ by one of the top coin grading companies. *** [?].
If you are a fan of coin roll hunting or just want to learn more about Mount Rushmore Quarters then search or scroll below to find the most valuable and rarest in this series.
Most Valuable
The most valuable Mount Rushmore Quarter's. Prices listed are for MS-65 certified. Visit the link to learn more about each coin.
Want more? Click here to see the most valuable coins ever minted.