Notes:
The Kisatchie Louisiana National Forest Quarter was minted in 2015 at the Philadelphia (P), Denver (D), and San Francisco (S) mints. This coin is part of the America the Beautiful coin series that was to showcase some of the most beautiful natural landscapes the United States has to offer. President Herbert Hoover. Created Kisatchie National Forest which protects more than 600,000 acres of public lands.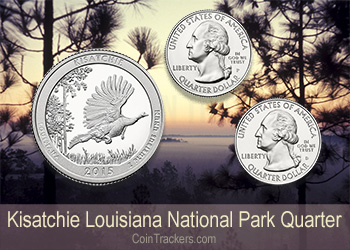 The obverse or front of this coin is no different than any other Washington Quarter of its time, with George Washington's bust the words United States of America, In God We Trust, Liberty, and Quarter Dollar. The coin's reverse was designed by sculptor Joseph Menna, and designer Susan Gamble. A male wild turkey in flight. Male wild turkeys have so called beards that hang like tassels from their neck. The date 2015 is present on the bottom. The words Kisatchie Louisiana, and E Pluribus Unum as well. Kisatchie is what the native Kichai Indians called themselves. Long leaf pine trees, and bluegrass are the native vegetation represented here.
There are several specific variations to be aware of with these coins, they are.
2015 P Standard Issue
2014 P 5oz Silver Bullion 99.9% pure
2015 D Standard Issue
2015 S Standard Issue (rare)
2015 S Non-Silver Proof Issue
2015 S 90% Silver Proof Issue
There are 6 known variations with some errors known to exist as well. Production numbers for coinage this year increased by around 30% making previous years worth slightly more.
Long Leaf Vista Sunrise Image credit Lionel Meyer
How much is a 2015 S Kisatchie Louisiana (Non Proof) worth?
This section is more of a layman's guide, for those new to collecting.
In Average Circulated (AC) condition it's worth around $1, one in certified mint state (MS+) condition could bring as much as $8 at auction. This price does not reference any standard coin grading scale. So when we say Average Circulated, we mean in a similar condition to other coins circulated in 2015, and mint state meaning it is certified MS+ by one of the top coin grading companies. *** [?].
If you are a fan of coin roll hunting or just want to learn more about Kisatchie Louisiana Quarters then search or scroll below to find the most valuable and rarest in this series.
Most Valuable
The most valuable Kisatchie Louisiana Quarter's. Prices listed are for MS-65 certified. Visit the link to learn more about each coin.
Want more? Click here to see the most valuable coins ever minted.
Hardest to Find
The rarest and hardest to find Kisatchie Louisiana Quarter's Check out each link to learn more about each coin.
What is the rarest Kisatchie Louisiana Quarter?