Year: 1942
Mint Mark: No mint mark
Type: Walking Liberty Half
Price: $9.00-$85.00+
Face Value: 0.50 USD
Produced: 47,818,000
Edge: Reeded

Silver Content: 90%

Silver Weight: .3617 oz.
Melt Value: $8.28
Notes: There were 21 thousand 1942 Walking Liberty proof half dollars minted at the (p) Philadelphia mint. These can be worth more than $700 if sold to a collector. All walking liberties are 90% silver.
In regards to errors the 1942 Walker has a few notable ones. The most notable would be the struck on silver quarter planchet.

1942 Half Dollar Error Guide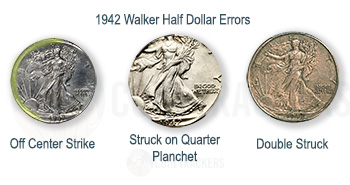 (Click to Enlarge Image)
Off Center Strike - When the die strikes an improperly seated plachet off-center this is the error it creates. Strikes can be anywhere from 5% to 95% off center. The more off center the more of the blank planchet will be left behind.
1942 Half Dollar Struck on 25C Planchet - These half dollar errors look as if a die was misaligned and struck only a portion of the planchet, but in fact the error is caused by the die striking a quarter planchet. This coin should weigh roughly 5.670 grams, the standard weight of a post 1964 quarter. This error can be easily overlooked.
Double Strike - When the planchet is struck more than once on the same face by the die this causes a Double Strike Error. More recent coins are listed as DDO or DDR.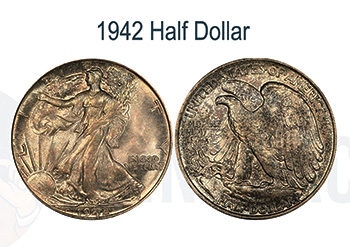 Related Coins
Price Chart
This section is more for experienced collectors only, and rates refer only to professionally graded and slabbed coins. If you are new to collecting the prices below may not make much sense.
Breakdown of pricing per condition for 1942 Half Dollar as follows.
1942 Walking Liberty Halves come in 2 flavors normal and early proof. Superior toning and color will add 10% to 50% more to the overall value of your coin. Simply put collectors love toned coins.


Grade AU58 = $34-$56
Grade MS63 = $45-$75
Grade MS64 = $68-$113
Grade MS65 = $75-$125
Grade MS66 = $150-$250
Grade MS67 = $750-$1,250
Grade MS68 = $4,500-$7,500
Grade PR62 = $90-$188
Grade PR63 = $150-$313
Grade PR64 = $244-$406
Grade PR65 = $375-$625
Grade PR66 = $525-$875
Grade PR67 = $675-$1,125


Is the list above a little overwhelming? If so, take 5 minutes to learn all about Coin Grading.
It's also important to note...Prices are subject to the same supply and demand laws as everything else. Coins sold at the same auction house 10x, would fetch drastically different bids each session. To raise your chances of receiving top dollar read How to Get the Most for your Coins.
We've personally researched these values. If you enjoy our content please return the favor and share this page with your friends.
Thanks CoinTrackers.com
How much is a 1942 Half Dollar worth?
In Average Circulated (AC) condition it's worth around $9.00, one in certified mint state (MS+) condition could bring as much as $180 at auction. This price does not reference any standard coin grading scale. So when we say Average Circulated, we mean in a similar condition to other coins circulated in 1942, and mint state meaning it is certified MS+ by one of the top coin grading companies. *** [?].
What are your coins really worth?
Use the handy-dandy calculator below to find the real value of any walking liberty half dollar in your collection.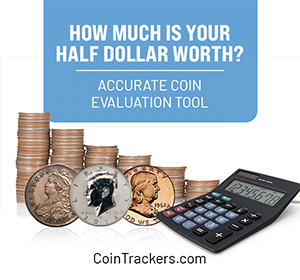 Most Valuable
The most valuable Walking Liberty Half Dollar's. Prices listed are for MS-65 certified. Visit the link to learn more about each coin.
Want more? Click here to see the most valuable coins ever minted.
Hard to Find
What is the rarest Walking Liberty Half Dollar?
| Name | Produced |
| --- | --- |
| 1921 D | 208,000 |
| 1921 | 246,000 |
| 1938 D | 491,000 |
| 1916 S | 508,000 |
| 1921 S | 548,000 |
| 1916 | 608,000 |
| 1917 D | 765,000 |
| 1917 S | 952,000 |
| 1917 S | 952,000 |
| 1919 | 962,000 |
| 1929 D | 1,001,000 |
| 1916 D | 1,014,000 |
| 1919 D | 1,165,000 |
| 1919 S | 1,522,000 |
| 1920 D | 1,551,000 |
| 1937 D | 1,676,000 |
| 1933 S | 1,786,000 |
| 1929 S | 1,902,000 |
| 1917 D | 1,940,000 |
| 1928 S | 1,940,000 |
| Name | Produced |
Are 1942 Half Dollars Silver?
Yes! Walking Liberty Half Dollar's produced in 1942 are 90% silver to be precise, and contain .3617 troy oz or 11.25 grams in total of .999 pure silver. Silver weight is measured in troy ounces. Troy ounces weigh about 2 grams more than the standard ounce. CoinTrackers has built a tool that will let you know if your coin is silver or not. The tool is called Is My Coin Silver?.
Numismatic vs Intrinsic Value:
This coin in poor condition is still worth $0.72 more than the intrinsic value from silver content of $8.28, this coin is thus more valuable to a collector than to a silver bug. Coins worth more to a collectors may be a better long term investment. If the metal prices drop you will still have a coin that a numismatic would want to buy.
Want more info? Then read Coin Collecting Investment an article that details the benifits of coin collecting as a way to build wealth. Also learn how to properly store your coins.
Current silver melt value* for a 1928 S Walking Liberty Half is $8.28 and this price is based off the current silver spot price of $22.90 This value is dynamic so bookmark it and comeback for an up to the minute silver melt value.
***Price subject to standard supply and demand laws, dealer premiums, and other market variations. Prices represent past values fetched at online auctions, estate sales, certified coins being sold by dealers, and user submitted values. While we wholeheartedly try to give honest price estimates there are many factors besides appearance, metal content, and rarity that help make up the coins overall value. Call or visit your local coin dealer for more information.
We use user submitted pictures please read that article if you are interested in adding your own.