5 Ways to Find Junk Silver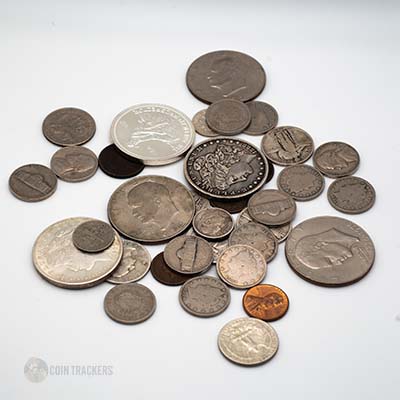 When Silver prices for silver bullion, rounds, and premium coins like the American Silver Eagles and the Canadian Maples get too expensive for your taste, you can still get your silver fix for a reasonable price if you are willing to do a little legwork. Here are 5 great ways to find silver on the cheap. Junk Silver as it's called by many people is often categorized as minted coins from circulation that contain between 35% and 90% Silver.
We've recently found thousands of dollars worth of junk / circulated silver coins and only spent a fraction of the current spot price. Please bookmark (Ctrl + D) this page and be sure to share it with others.
1.) Coin Roll Searching
Coin roll or loose coin searching is a great way to find junk silver on the cheap. How does it work? Just like it sounds for the most part. You search rolls or loose coins for those coins usually minted before 1965. If you're not sure if your coin is silver then try Is my coin Silver? a utility developed for just this purpose.
2.) Antique Stores
Antique Stores and dealer shops are a great place to find junk silver at a relatively low price, assuming they don't update their prices every week or month. When silver prices spike you can almost always find a store selling the coins at a price that is lower than that of spot price. We recently bought a roll of Barber Halves, a Roll of Walking Liberty Halves, 17 Peace and Morgan Dollars all for well under spot price and hundreds of dollars less than what they go for online. You may have to do a bit of driving but it's well worth the effort.
3.) Gas Stations/Stores
Next time you fill up your car be sure to pay inside, when the teller opens his drawer have a look inside to see if he has any strange coins. In this economy people are using old coins to pay for things like Gas, Food, and other basic needs. Remember you can't eat silver. :) If they don't have anything strange ask to "buy a roll" of quarters, dimes, and maybe even nickels. Once you searched the rolls you can always wrap it back up and spend it elsewhere.
4.) Coin Counting Machines
CoinStar and automatic coin counting machines have been known to kick out strange coins. Many times these coins are foreign, sometimes they are local silver coins. Either way you may want to check the return bin next time you pass one. In addition to this try asking the registers near the coin machines. If the machine doesn't take the coin the person will usually hand the coin over to the teller with the receipt. It's a great way to find junk silver coins. My wife recently found a Chinese Yuan, a Flattened Penny, and one teller even had a 1964 Kennedy Half Dollar (that's 90% silver boys and girls)
Small Note: The day I wrote this article I found a 1981 Canadian Dime in the machine return while dumping my searched change bucket off. It's not silver, but nice nonetheless.
5.) Garage Sales & Flea Markets
Assuming you are willing to get up early on a Saturday morning to feed your silver craving then you might find some amazing scores at your local yard or garage sales. Most people don't know the Silver Coin Melt Values for the standard US Minted coins right off the top of there head. They may even be relying on a book from 2010, 2009, 2008 to define the value of their coins. This represents a great opportunity to score some good silver coins for rock bottom prices.
Tools to Use
Use these tools on your mobile phone or wireless device to get current melt prices and check silver content of coins while you are out and about. Why carry a 3 pound book when you can just use your phone.
More ways to Get Junk Silver!
I was checking out a few of the coin shops in a town about 30 minutes away, and was surprised to find that the shop keeper had a special stash of junk silver rolls, that he sold for spot. He looked up the current spot price and calculated the coins by that. I bought a roll of 64 Kennedys for spot. He had all sorts of junk coinage. Looking around his shop you couldn't even tell however. His display unit contained collectable coins, it wasn't until I asked him about loose junk silver that he offered up his "stash" from a drawer in a desk in the back. When the price goes down a bit you better believe I'll be stopping back in to buy some bulk junk silver.