Year: 1951
Mint Mark: No mint mark
Type: Wheat Penny
Price: 15 cents-$35.00+
Face Value: 0.01 USD
Produced: 284,576,000
Edge: Smooth

Notes: 1951 was just the 2nd time since the war ended that the US Mint had issued proof pennies. They issued just 57 thousand of these coins and due to their significance they are worth around $80 in perfect condition.

When it comes to Wheat Cents, and or Lincoln Cents in general the Redder the better. There are 3 color distinctions used in regards to copper cents, and they are; Red (RD), Red Brown (RB), and Brown (BN). The most valuable of the 3 is the Red. So a certified Red (RD) copper cent is worth more than a certified Red Brown, and a Red Brown is worth more than a certified Brown.
The whole thing can be a bit confusing so to help you out we have created a Copper Cent Color guide to assist you in deciding what color your coin should be described as.
Copper Penny Color Guide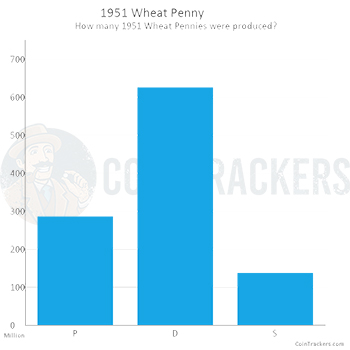 Price Chart
This section is more for experienced collectors only, and rates refer only to professionally graded and slabbed coins. If you are new to collecting the prices below may not make much sense.
Breakdown of pricing per condition for 1951 Wheat Penny as follows.
Grade MS61 = $2-$3
Grade MS62 = $34-$56
Grade MS63 = $6-$10
Grade MS64 = $38-$63
Grade MS65 = $49-$81
Grade MS66 = $86-$144
Grade PR64 = $45-$75
Grade PR65 = $53-$88
Grade PR66 = $83-$138
Grade PR67 = $188-$313


Is the list above a little overwhelming? If so, take 5 minutes to learn all about Coin Grading.
It's also important to note...Prices are subject to the same supply and demand laws as everything else. Coins sold at the same auction house 10x, would fetch drastically different bids each session. To raise your chances of receiving top dollar read How to Get the Most for your Coins.
We've personally researched these values. If you enjoy our content please return the favor and share this page with your friends.
Thanks CoinTrackers.com
How much is a 1951 Wheat Penny worth?
This section is more of a layman's guide, for those new to collecting.
In Average Circulated (AC) condition it's worth around 15 cents, one in certified mint state (MS+) condition could bring as much as $35 at auction. This price does not reference any standard coin grading scale. So when we say Average Circulated, we mean in a similar condition to other coins circulated in 1951, and mint state meaning it is certified MS+ by one of the top coin grading companies. *** [?].
If you are a fan of coin roll hunting or just want to learn more about wheat pennys then search or scroll below to find the most valuable and rarest in this series.
Similar Coins
Most Valuable
The most valuable Wheat Penny's. Prices listed are for MS-65 certified. Visit the link to learn more about each coin.
Want more? Click here to see the most valuable coins ever minted.
Hardest to Find
The rarest and hardest to find Wheat Penny's Check out each link to learn more about each coin.
What is the rarest Wheat Penny?
| Name | Produced |
| --- | --- |
| 1931 S | 866,000 |
| 1914 D | 1,193,000 |
| 1909 S | 1,825,000 |
| 1924 D | 2,520,000 |
| 1911 S | 4,026,000 |
| 1914 S | 4,137,000 |
| 1912 S | 4,431,000 |
| 1931 D | 4,480,000 |
| 1926 S | 4,550,000 |
| 1935 D | 4,700,000 |
| 1915 S | 4,833,000 |
| 1910 S | 6,045,000 |
| 1913 S | 6,101,000 |
| 1933 D | 6,200,000 |
| 1922 D | 7,160,000 |
| 1923 S | 8,700,000 |
| 1932 | 9,062,000 |
| 1912 D | 10,411,000 |
| 1932 D | 10,500,000 |
| 1924 S | 11,696,000 |
| Name | Produced |
***Price subject to standard supply and demand laws, dealer premiums, and other market variations. Prices represent past values fetched at online auctions, estate sales, certified coins being sold by dealers, and user submitted values. While we wholeheartedly try to give honest price estimates there are many factors besides appearance, metal content, and rarity that help make up the coins overall value. Call or visit your local coin dealer for more information.
We use user submitted pictures please read that article if you are interested in adding your own.