Is My Coin Silver?
How to tell if a coin is silver or not.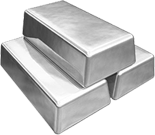 Use our online handy dandy silver coin detector to see if your coin contains silver or not. This tool is for U.S. Silver Coins only. It does not do foreign coinage, sorry.
*This coin tool is free and was programmed by CoinTrackers.com Bookmark this page (Ctrl+D) and be sure to tell your friends.
You may also like