Notes:
The 2012 S Chaco Culture Quarter Regular issue (non proof) is part of the America The Beautiful Quarter quarter program. Chaco Culture National Historical Park is located in New Mexico and contains many ancient structures that were built between 900 AD and 1150 AD. These structures were built by the indigenous Pueblo Indians, and were aligned to the summer and winter solstice. Chaco Culture National Historical Park contains and protects more than 33 thousand acres, and many locations have been designated as World Heritage Sites.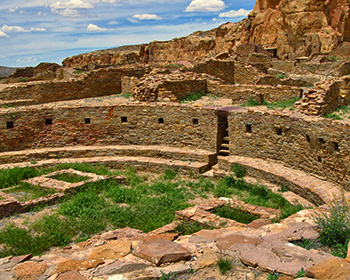 Source
The 2012 S Chaco Culture Quarter has been released in many forms, and from many mints. The P minted general circulation version is a non silver, and non proof version of the coin. There was also a D (Denver) minted circulation version, and a circulation issued S (San Francisco) minted coin. On top of these there were also special issued S Proof versions, S Silver Proof Versions, and a P 5 oz .999 pure silver bullion coin geared more towards precious metal enthusiasts.
How much is a 2012 S Chaco Culture Quarter (Non Proof) worth?
This section is more of a layman's guide, for those new to collecting.
In Average Circulated (AC) condition it's worth around $1.50, one in certified mint state (MS+) condition could bring as much as $8 at auction. This price does not reference any standard coin grading scale. So when we say Average Circulated, we mean in a similar condition to other coins circulated in 2012, and mint state meaning it is certified MS+ by one of the top coin grading companies. *** [?].
If you are a fan of coin roll hunting or just want to learn more about Chaco Culture Quarters then search or scroll below to find the most valuable and rarest in this series.
Most Valuable
The most valuable Chaco Culture Quarter's. Prices listed are for MS-65 certified. Visit the link to learn more about each coin.
Want more? Click here to see the most valuable coins ever minted.