Year: 1921
Mint Mark: S
Type: Morgan Silver Dollar
Price: $28.00-$600.00+
Face Value: 1.00 USD
Produced: 21,695,000
Edge: Reeded

Silver Content: 90%

Silver Weight: .7735 oz.
Melt Value: $17.71
Notes: Many of the 1921 Morgans are actually older Morgans and peace dollars melted down and re-coined. The Pittman Act, passed in 1918, authorized the melting and recoining of millions of silver dollars. See Wikipedia for more info on the Pittman act. Read more on the Pittman Act 1921 Silver Dollars generally have nice reeded edges as they are newer.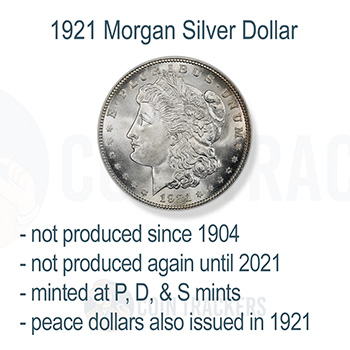 (Click to Enlarge Image)
In the year 1921 the United States Mint didnt have the best quality control it seems. They were rushing to push out as many 1921 Morgan Silver Dollars as possibly, and this in turn created a plethora of errors.
1921 Silver Dollar Errors Include; Curved Clip Error-the lip or edge of the coin will have a curved clip that dips into the coin. Rim Defect Error-the rim of these coins has many defects be sure to check them for errors. Missing or Partial Numbers-there are several instances of portions of numbers and or letters in words missing. The likely cause is the die was filled with a foreign substance or die grease. Blank Planchet- a blank coin with nothing on it at all. The blank or planchet somehow made it into circulation. Lamination Error-a portion of the lamination or outer skin of the coin may be missing. Last but not least Die Break Errors-when the die breaks or cracks it leaves a mark on the coin.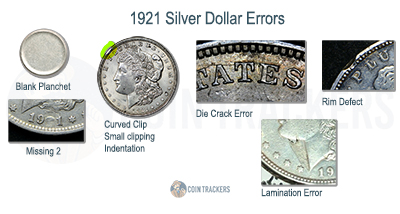 Did you know?
Between 1962 and 1964 Millions of Morgan Silver Dollars were released into the general public by the United States Mint. Bags of Morgans that had been sealed in the United States mint since 1929 and were brought out of storage, including many specimens that were previously considered ultra rare. This drastically drove down the price of certain Morgans and temporarily destabilized the silver dollar market value in the Numismatic community.
Mintages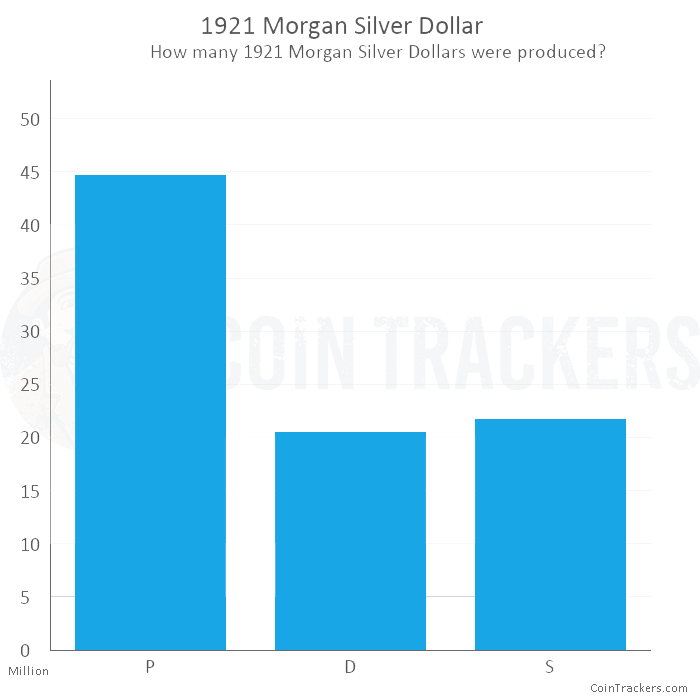 Related Coins
How much is a 1921 S Morgan Silver Dollar worth?
In Average Circulated (AC) condition it's worth around $28.00, one in certified mint state (MS+) condition could bring as much as $235 at auction. This price does not reference any standard coin grading scale. So when we say Average Circulated, we mean in a similar condition to other coins circulated in 1921, and mint state meaning it is certified MS+ by one of the top coin grading companies. *** [?].
What are your coins really worth?
Use the handy-dandy calculator below to find the real value of any morgan silver dollar in your collection.
Overall Specs & Design
This coin has a total mass of 26.73 g, a diameter of 1.5 in, and a thickness of 2.4 mm. It's edge is Reeded, and the coins are composed of 90.0% Silver & 10.0% Copper.
Designer: George T. Morgan
Front (Obverse): Profile view of Lady Liberty looking to the left. The words "E Pluribus Unum" that translates to "Out of Many, One" referring to the many states that make the country the United States. The date is located at the center bottom. 13 stars circle the coin adjacent to the lettering. These represent the original 13 colonies.
Back (Reverse): The reverse is a bald eagle clasping arrows and an olive branch in its claws. This represents peace and war, as the United States is capable of both. The eagle's wings are spread out and it too is glancing to the left. The words "In God We Trust", "United States of America", and "One Dollar" are all present on the reverse as well.
Most Valuable
The most valuable Morgan Silver Dollar's. Prices listed are for MS-65 certified. Visit the link to learn more about each coin.
Want more? Click here to see the most valuable coins ever minted.
Hard to Find
What is the rarest Morgan Silver Dollar?
| Name | Produced |
| --- | --- |
| 1893 S | 100,000 |
| 1885 CC | 228,000 |
| 1881 CC | 296,000 |
| 1893 O | 300,000 |
| 1899 | 330,000 |
| 1889 CC | 350,000 |
| 1893 | 378,000 |
| 1895 S | 400,000 |
| 1895 O | 450,000 |
| 1880 CC | 591,000 |
| 1888 S | 657,000 |
| 1893 CC | 677,000 |
| 1889 S | 700,000 |
| 1886 S | 750,000 |
| 1879 CC | 756,000 |
| 1895 | 880,000 |
| 1892 | 1,036,000 |
| 1882 CC | 1,133,000 |
| 1884 CC | 1,136,000 |
| 1883 CC | 1,204,000 |
| Name | Produced |
Are 1921 S Morgan Silver Dollars Silver?
Yes! Morgan Dollar's produced in 1921 are 90% silver to be precise, and contain .7735 troy oz or 24.05 grams in total of .999 pure silver. Silver weight is measured in troy ounces. Troy ounces weigh about 2 grams more than the standard ounce. CoinTrackers has built a tool that will let you know if your coin is silver or not. The tool is called Is My Coin Silver?.
Numismatic vs Intrinsic Value:
This coin in poor condition is still worth $10.29 more than the intrinsic value from silver content of $17.71, this coin is thus more valuable to a collector than to a silver bug. Coins worth more to a collectors may be a better long term investment. If the metal prices drop you will still have a coin that a numismatic would want to buy.
Want more info? Then read Coin Collecting Investment an article that details the benifits of coin collecting as a way to build wealth. Also learn how to properly store your coins.
Current silver melt value* for a 1883 CC Morgan Silver Dollar is $17.71 and this price is based off the current silver spot price of $22.90 This value is dynamic so bookmark it and comeback for an up to the minute silver melt value.
***Price subject to standard supply and demand laws, dealer premiums, and other market variations. Prices represent past values fetched at online auctions, estate sales, certified coins being sold by dealers, and user submitted values. While we wholeheartedly try to give honest price estimates there are many factors besides appearance, metal content, and rarity that help make up the coins overall value. Call or visit your local coin dealer for more information.
We use user submitted pictures please read that article if you are interested in adding your own.