Notes: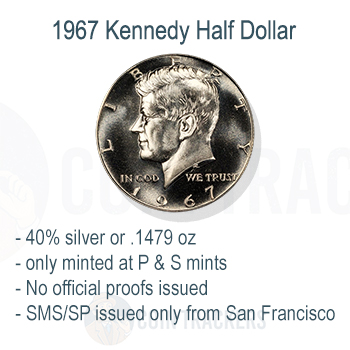 (Key Notes on 1967 Half)
This bad boy is 40% silver and a must have for any collector. Notice the sheer number of coins minted. 295 Million, that's a truck load of coins. That's around $1,770,000,000 or 1.7 Billion in todays silver market.
1967 Half Dollar Error Guide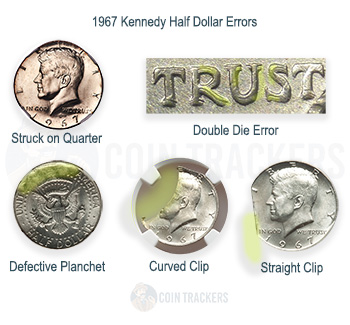 (Click to Enlarge Image)
This coin was plagued with errors. Here are the most notable. If you find this helpful please share this page.
Struck on 25C (Quarter Planchet) - Struck on a .25 cent or quarter planchet. When a quarter planchet is accidentally mixed with the regular 40% silver half dollars then this error occurs. These errors are selling for between $500 and $2000 dollars depending upon condition.
Struck on Defective Planchet - When a planchet metal is damaged before or after being punched from the original sheet of metal and or upon transfer to the dies the end result will be a Defective Planchet. If that defective planchet makes its way into the population it is a Defective Planchet error. Selling for $100 to $300 coin will often weigh less than the original 11.5g a normal planchet would weigh.
Lamination (Clamshell & More) - Lamination errors occur when the outer coating or lamination is missing or has been disturbed during the manufacturing process.
Struck on Thin Planchet - This coin will appear slightly thinner and lighter than the original 11.50 grams the 40% silver half dollars are supposed to weigh. Selling for a few hundred dollars. $100 to $400
DDO / DDR (Double Die / Double Strike) - When the die strikes the planchet more than once it creates a double die error. When searching for these coins be sure to look closely at the lettering for extra edges. These are the tell tale signs of a Double Die or Double Strike error.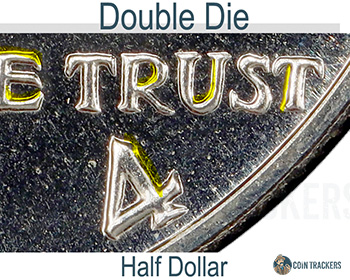 (Double Die Half Dollar Error)
Struck Through - Struck through errors occur when a foreign material is interjected between the die and the planchet. In the case of the 1967 Half Dollar this has been documented with foreign substances such as grease and just plain struck through. Grease is used to lubricate the die but if not applied perfectly can create defects / errors like this. Selling for $80 to $400
Curved Clip - When a planchet is clipped a portion of it is cut and removed. The clipping likey gets swept up and thrown away, but the coin itself often makes it into circulation. A curved clip is exactly what it sounds like, a clip that has a curved shape. It usually looks like a crescent moon. Valued somewhere between $80 and $350.
Straight Clipped - Similar to the curved clip error, the straight clip looks like someone took a pair of scissors and cut off a straight piece of the planchet. Straight clip errors are rarer than curved clip They may be caused when the planchet is punched near the edge of the planchets sheet of metal. Selling for $100 or so.
Ragged Edge Clip - A ragged edge clip is similar to the other clippings but the edge appears ragged as if cut by a pair of old dull scissors. If you have ever cut paper with a pair of dull scissors then you know what we are referring to too. Selling for $100 or so.
Mintages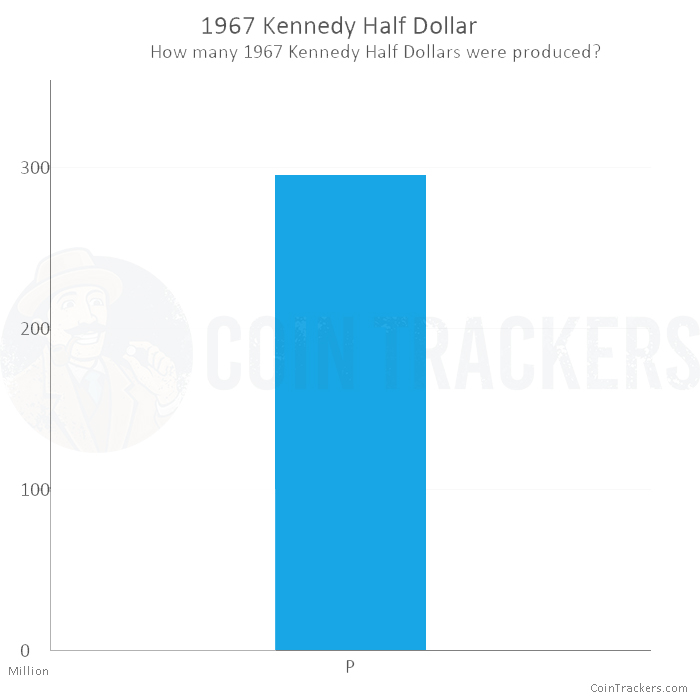 Comments

Johna Thurstan: So these are silver or they are not? I have one dated 2012, and was thinking they are not. Approved: 2022-11-01 16:12:34

Admin: @JohnaThurstan Modern Kennedys are normally not silver. The San Francisco mint has proof and silver proof Kennedy Half Dollars, but these are only available through the United States mint. The coin on this page the 1967 Kennedy Half Dollar is silver however. Kennedies issued from 1965 to 1970 are 40% silver, and those issued in 1964 are 90% silver. Approved: 2022-11-01 16:12:36
Price Chart
This section is more for experienced collectors only, and rates refer only to professionally graded and slabbed coins. If you are new to collecting the prices below may not make much sense.
Breakdown of pricing per condition for 1967 Kennedy Half Dollar as follows.
CAMEO, DCAM (Deep Cameo), and Toning both increase the overall appeal and therefore price of the 1967 P Kennedy Half. As an example MS-63 specimens with rainbow toning are selling for more than some MS-65 non toned non DCAM specimens.




These coins are 40% silver meaning the base or lowest this coin in any condition should sell for is something over the spot melt price listed above. Each coin has over .1479 oz of pure silver.




SMS, SP or Specimen versions of this coin are priced below using the PR designation. They will be detailed on the slabs label as SP SMS (special mint set). Example: 1967 50C SMS SP68.




SMS SP Sales are not easy to asses, so when browsing values below please take this into consideration. MS prices should be spot on however.



Grade MS60 = $8-$10
Grade MS61 = $8-$13
Grade MS62 = $11-$19
Grade MS63 = $15-$25
Grade MS64 = $19-$31
Grade MS65 = $24-$40
Grade MS66 = $75-$125
Grade MS67 = $600-$1,000
Grade PR66 = $600-$1,000
Grade PR67 = $1,125-$1,875
Grade PR68 = $4,500-$7,500


Is the list above a little overwhelming? If so, take 5 minutes to learn all about Coin Grading.
It's also important to note...Prices are subject to the same supply and demand laws as everything else. Coins sold at the same auction house 10x, would fetch drastically different bids each session. To raise your chances of receiving top dollar read How to Get the Most for your Coins.
We've personally researched these values. If you enjoy our content please return the favor and share this page with your friends.
Thanks CoinTrackers.com
How much is a 1967 Kennedy Half Dollar worth?
In Average Circulated (AC) condition it's worth around $2.00, one in certified mint state (MS+) condition could bring as much as $82 at auction. This price does not reference any standard coin grading scale. So when we say Average Circulated, we mean in a similar condition to other coins circulated in 1967, and mint state meaning it is certified MS+ by one of the top coin grading companies. *** [?].
What are your coins really worth?
Use the handy-dandy calculator below to find the real value of any kennedy half dollar in your collection.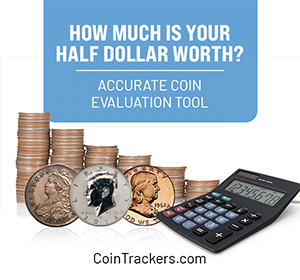 Overall Specs & Design
This coin has a total mass of 11.34 g, a diameter of 30.6 mm, and a thickness of 2.15 mm. It's edge is Reeded, and the coins are composed of 1971 - Present 75% copper, 25% nickel, 1965-1970 40% silver 60% copper, 1964 - 90% Silver 10% copper.
Designer: Gilroy Roberts and Frank Gasparro
Front (Obverse): The front or coin obverse contains the profile of John F. Kennedy gazing to the left. The words In GOD We Trust and Liberty are engraved. Mint marks are located to the bottom center of the bust. The date is present as well.
Back (Reverse): Contains a bald eagle grasping 13 arrow in its right claw, and am olive branch also containing 13 olives. A shield protects the eagles chest. 13 stars radiate along lines stemming from the eagles wings. These represent the original 13 colonies. The words United States of America and Half Dollar are present and engraved on the reverse as well.
P, D, S, W mint marks are present on coins. The initials FG stand for Frank Gasparro the designer of the coins reverse.
Most Valuable
The most valuable Kennedy Half Dollar's. Prices listed are for MS-65 certified. Visit the link to learn more about each coin.
Want more? Click here to see the most valuable coins ever minted.
Hard to Find
What is the rarest Kennedy Half Dollar?
| Name | Produced |
| --- | --- |
| 2014 W | 73,000 |
| 2014 W | 73,000 |
| 2019 S | 99,000 |
| 2021 S | 319,000 |
| 2022 S | 319,000 |
| 2023 S | 319,000 |
| 2020 S | 336,000 |
| 2015 S | 387,000 |
| 2016 S | 406,000 |
| 2017 S | 406,000 |
| 2018 S | 406,000 |
| 2012 S | 445,000 |
| 2019 S | 460,000 |
| 2013 S | 467,000 |
| 2020 S | 521,000 |
| 2021 S | 521,000 |
| 2022 S | 521,000 |
| 2023 S | 521,000 |
| 2011 S | 574,000 |
| 2010 S | 585,000 |
| Name | Produced |
Are 1967 Kennedy Half Dollars Silver?
Yes! Kennedy Half Dollar's produced in 1967 are 40% silver to be precise, and contain .1479 troy oz or 4.600 grams in total of .999 pure silver. Silver weight is measured in troy ounces. Troy ounces weigh about 2 grams more than the standard ounce. CoinTrackers has built a tool that will let you know if your coin is silver or not. The tool is called Is My Coin Silver?.
Numismatic vs Intrinsic Value:
This coin in poor condition is worth $1.39 less than the intrinsic value from silver content of $3.39, this coin is thus more valuable to a silver bug than to a coin collector. You will most likely find however that it is hard to get a coin for less than spot price. At least that has been our experience. Want more info? Then read Coin Collecting Investment an article that details the benifits of coin collecting as a way to build wealth..
Current silver melt value* for a 2010 S Kennedy is $3.39 and this price is based off the current silver spot price of $22.90 This value is dynamic so bookmark it and comeback for an up to the minute silver melt value.
***Price subject to standard supply and demand laws, dealer premiums, and other market variations. Prices represent past values fetched at online auctions, estate sales, certified coins being sold by dealers, and user submitted values. While we wholeheartedly try to give honest price estimates there are many factors besides appearance, metal content, and rarity that help make up the coins overall value. Call or visit your local coin dealer for more information.
We use user submitted pictures please read that article if you are interested in adding your own.