Who is on the Dime?
What president is on the dime?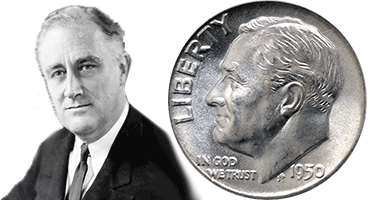 The current United States dime contains President Franklin D. Roosevelt's face. Roosevelt was the 32nd President of the United States, and was in office from 1933-1945. If you do the math on that he was in office for 12 years. Roosevelt served 3 terms, before the 80th Congress created an amendment allowing US Presidents to server for just 2.
Coin Values & Stats
All the Roosevelt dimes from 1946-2010 listed below.
If you want some stats on the mintage, melt values, numismatic values, and much more regarding the Roosevelt dimes just choose a link below.
Roosevelt Dimes
Scroll for More Roosevelt Dimes
Scroll for More Roosevelt Dimes
All US Dimes
Related Article